Posts for tag: dentures
By Cary J. Limberakis, DMD
January 17, 2019
People who've lost all their teeth have benefitted from a solution that's been around for generations: removable dentures. These appliances have helped millions of people chew and eat food, speak, and smile confidently.
But for all their benefits (including affordability) there's still some things you need to do to get the most out of them like cleaning them daily or having us check them regularly for damage and wear. And, there's one thing you shouldn't do: wear them around the clock. Not removing them when you sleep at night can harm your oral health and reduce your dentures' longevity.
Dentures are fitted to rest on the gums and the bony ridges that once held your natural teeth. This exerts pressure on the underlying bone that can cause it to gradually dissolve (resorb). This loss in bone volume eventually loosens your denture's fit. If you're wearing them all the time, the process progresses faster than if you took them out each night.
The under surfaces of dentures are also a prime breeding ground for bacteria and fungi. Besides unpleasant odors and irritation, these microorganisms are also the primary cause for dental disease. Research has found that people who sleep in their dentures have higher occurrences of plaque, a thin film of bacteria and food remnants that cause periodontal (gum) disease. They're also more prone to higher levels of yeast and the protein interleukin-6 in the blood, which can trigger inflammation elsewhere in the body.
To avoid these and other unpleasant outcomes, you should develop a few important habits: remove and rinse your dentures after eating; brush them at least once a day with dish or anti-bacterial soap or a denture cleanser (not toothpaste, which can be too abrasive); and take them out when you sleep and place them in water or an alkaline peroxide-based solution.
Be sure you also brush your gums and tongue with an extra soft toothbrush (not your denture brush) or wipe them with a clean, damp washcloth. This will help reduce the level of bacteria in the mouth.
Taking these steps, especially removing dentures while you sleep, will greatly enhance your well-being. Your dentures will last longer and your mouth will be healthier.
If you would like more information on denture care and maintenance, please contact us or schedule an appointment for a consultation.
By Cary J. Limberakis, DMD
August 29, 2017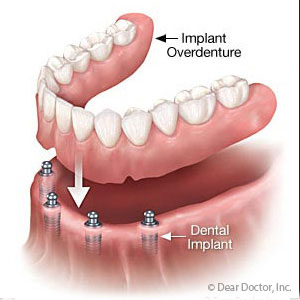 Although dental disease prevention has made great strides over the last century, tooth decay and periodontal (gum) disease continue to pose a major health threat. People who've lost all of their teeth (edentulism) or most of them suffer the most with adverse effects on their overall health, function and appearance.
Removable dentures have been the traditional and most affordable means to treat edentulism. But even with material and construction advances in recent years, dentures can still lose their fit over time as the bone in the jaw shrinks. This happens because the bone no longer has the stimulus of natural teeth and older cells can't be replenished at a healthy rate; the continuing compression of traditional dentures on the jaw's bony ridges compounds the problem.
As the bone shrinks the dentures become loose and uncomfortable to wear. Among other results, this poor fit can drastically affect how you eat: studies of denture wearers have found a decrease in their diet's nutritional value because they're eating fewer vegetables or fibrous, "chewy" foods and more foods with refined carbohydrates and fats that are easier to eat but less nutritious.
There is an alternative, though, that might slow bone loss and provide a better long-term fit: an overdenture supported by dental implants. With this appliance, a few implants are strategically installed in the upper or lower jaw. Matched attachments securely fasten the denture to the implants. In this case, the implants not the jaw ridge and gums support the denture thereby preserving the bone.
If you're healthy enough to undergo a tooth extraction, you should be able to handle implant surgery, a minor procedure usually performed with local anesthesia and with little to no discomfort afterward. It may even be possible to retrofit your current denture to work with the implants, but that will need to be determined during the planning stages.
Although more expensive than a traditional denture, overdentures are much more affordable than fixed restorations stabilized with implants. The difference, though, is the increase in your quality of life — for better nutrition, physical health and social confidence.
If you would like more information on treatment for teeth loss, please contact us or schedule an appointment for a consultation. You can also learn more about this topic by reading the Dear Doctor magazine article "Implant Overdentures for the Lower Jaw."
By Cary J. Limberakis, DMD
December 19, 2014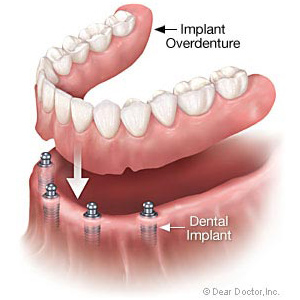 If you've had the misfortune of losing all or most of your teeth (a condition called edentulism), you still have effective options for restoring lost form and function to your mouth. There is, of course, the traditional removable denture that's been the mainstay for edentulism treatment for decades. If you haven't experienced significant bone loss in the jaw, though, a fixed bridge supported by titanium implants could be a better choice.
But what if bone loss has ruled out an implant-supported fixed bridge? There's still another option besides traditional dentures — a removable "overdenture" that fits "over" smaller diameter implants strategically placed in the jaw to support it.
A removable, implant-supported bridge offers a number of advantages for edentulism patients with significant bone loss.
Speech Enhancement. Any denture or bridge supported by implants will have a positive impact on speech ability, especially involving the upper jaw. But patients who've previously worn removable dentures may not see a dramatic difference but will still be able to benefit from the greater stability of the denture, particularly if the dentures were previously unstable.
Hygiene. A removable denture allows better access to implant sites for cleaning. Better hygiene reduces the risk of gum disease and further bone loss.
Long-Term Maintenance. Regardless of which type of implant supported restoration is used, it will eventually require some maintenance. A well-designed removable overdenture can make any future maintenance easier to perform.
Aesthetics. For personal satisfaction, this is often the ultimate test — how will I look? As a product of the evolving art of facial aesthetics, removable dentures supported by implants can replace lost tissues and restore balance to the face, and often produce a remarkable smile "makeover."
To find out which restoration option is best for you, you should first undergo a thorough examination to determine the status of your facial and jaw structures, particularly the amount of bone mass still present. Ultimately, though, the decision should be the one that best fits your functional needs, while fulfilling your desires for your future smile.
If you would like more information on tooth restoration options, please contact us or schedule an appointment for a consultation. You can also learn more about this topic by reading the Dear Doctor magazine article "Fixed vs. Removable: Choosing Between a Removable Bridge and a Fixed Bridge."